Card

Increases Max HP by 100
The Pecko is a giant bird that has made the temple grounds its home, and is quite merciless when it comes to defending its territory! It's a tanky, quite mobile enemy with a large attack range thanks to its ability to stretch its neck.
Flavor Text
Edit
A huge bird that likes nesting at really high altitudes! It's quite picky.
Pecko
Level
9
Health
1000
Weakness
None
Resistance
None
Found in
Flying Fortress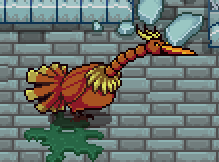 Ad blocker interference detected!
Wikia is a free-to-use site that makes money from advertising. We have a modified experience for viewers using ad blockers

Wikia is not accessible if you've made further modifications. Remove the custom ad blocker rule(s) and the page will load as expected.